Last Friday I picked up a gently used 2016 Lexus CT200h, 'h' meaning hybrid. This is the first time I've ever owned a hybrid vehicle. It had 41k miles when I got it, it included Navigation, backup camera, etc. so I am guessing this is the Premium model.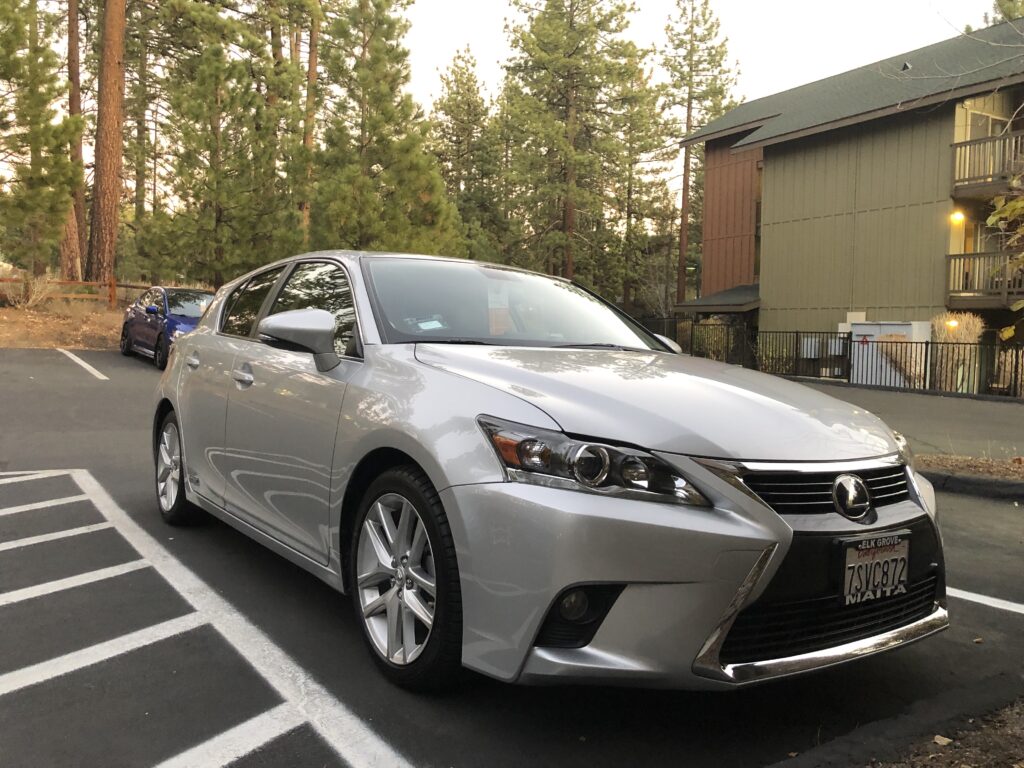 As you can see from the picture it silver on the outside. Inside it has black interior and has the most comfortable seats for any car I've ever owned. The back seats are less to be desired, but they work fine for the kids. There is plenty of headroom even for me standing at 5'10".
The stereo has everything I need, Bluetooth, FM, XM Satellite, and even Lexus branded apps, including built-in Yelp, iHeartRadio, Stocks, Weather, and can even display and read my iPhone text messages. The sound quality is also good, not booming, but good. So far my truck as the best sounding sound system, which is all aftermarket. The touch pad/stick takes some getting used to. It is not as precise as I'd like, which makes it distracting while driving.
The ride quality is decent. With 5 people in the car I could feel almost every bump on the road, but it was tolerable thanks again for the very cushiony seats. Performance is definitely not what I am used to coming from a BMW 328i sedan. The CT200h does have a Sport Mode. It helps, but it is nothing to write home about.
The CT200h has some really nice features, which I am happy with, meaning, I won't have to upgrade them anytime soon. It comes with decent headlights, foglights, LED daytime driving lights, LED rear lights, nice 17″ tires and rims, a good looking grill, etc. All things that would have normally been candidates for upgrades during my first year lol. I have yet to drive the car at night and other environmental changes, so I really don't know what I need or don't need as far as upgrades.
What I will be adding on top of the already tinted windows, all weather mats, and yellow fog light covers, all of which are or have been ordered will be a pair of Yakima cross bars. This will make up for the lack of storage space on the trunk. With a family of 5 we use up space like the air we breathe. Goes quickly.
Lastly and I guess most importantly is the gas mileage. It supposedly gets 42 mpg city, and 40 mpg combined. On the way to South Lake Tahoe this weekend, we averaged about 38 mpg, that is of course going up hill with 5 people and all our gear. Whew, I could surely feel the weight. On the way down the hill we were averaging about 53 mpg. I hardly had my feet on the pedals. It was one of my most comfortable rides to and from Tahoe. I still need to learn about all the drive settings, i.e. EV Mode, Standard, Sport so I can optimize the mpg.
To top things off I did get the extended warranty up to 7 years. With things like the hybrid battery and all, I am not sure what to expect. So I thought I'd be safe than sorry.
For now I am not sorry I got this hybrid. So far so good knock on wood. Praying that our family and friends who ride with us will always be safe. Amen!