In my last post 'Prepper – Bug Out Vehicle' I went over the last major update which was the addition of my solar panel. That was a fun learning experience. It is still my favorite mod on the truck and has been the foundation of my camper/topper setup.
Two weeks ago Justice and I actually slept in the truck just to see how it would be with two people. It was comfortable and we had all the conveniences necessary to have a restful sleep. I was like mini-camping and with that the noise of the road, birds chirping, car alarms blaring, etc.
I could envision myself traveling long distances and sleeping back there with just about everything I need and then some. The newest addition is the installation of a 24″ Smart TV with built in Amazon TV. I bought a full extension swivel mount so we can watch TV in bed or from the tailgate. To support the TV I reactivated my personal hot spot for internet access for streaming as well as adding a HD Antenna for local channels. Fun stuff!
Here is a video walk through of the truck. For now it is just a photo video. I plan on doing a motion video with voice in the near future. This way I could explain how some of the mods were installed and how they work. Just getting up the nerve to do it.
So now that I am 98% done with modding my truck I will start enjoying it more. Would love to take it camping or a place where I can open up the back shell window to an ocean, mountain view, lake, etc. This will be the only way to really know if I am missing anything else in the camper shell.
Off-hand I know I would like a refrigerator/freeze of some sort instead of an ice cooler. A proper cooler would just be the icing on the cake! Wouldn't have to worry about finding ice or having soggy vegetables/groceries. This would really complete my bug out vehicle.
The only concern with any build is space. Where can put the darn thing? I see people on YouTube who put their refrigerators on hitch systems or for Jeeps on a sliding storage unit / shelf of some kind. I don't have that luxury, at least not that I want to give up. As you can see from this recent picture, space is limited. I still want to be able to crawl in and not crawl over stuff to get into the back.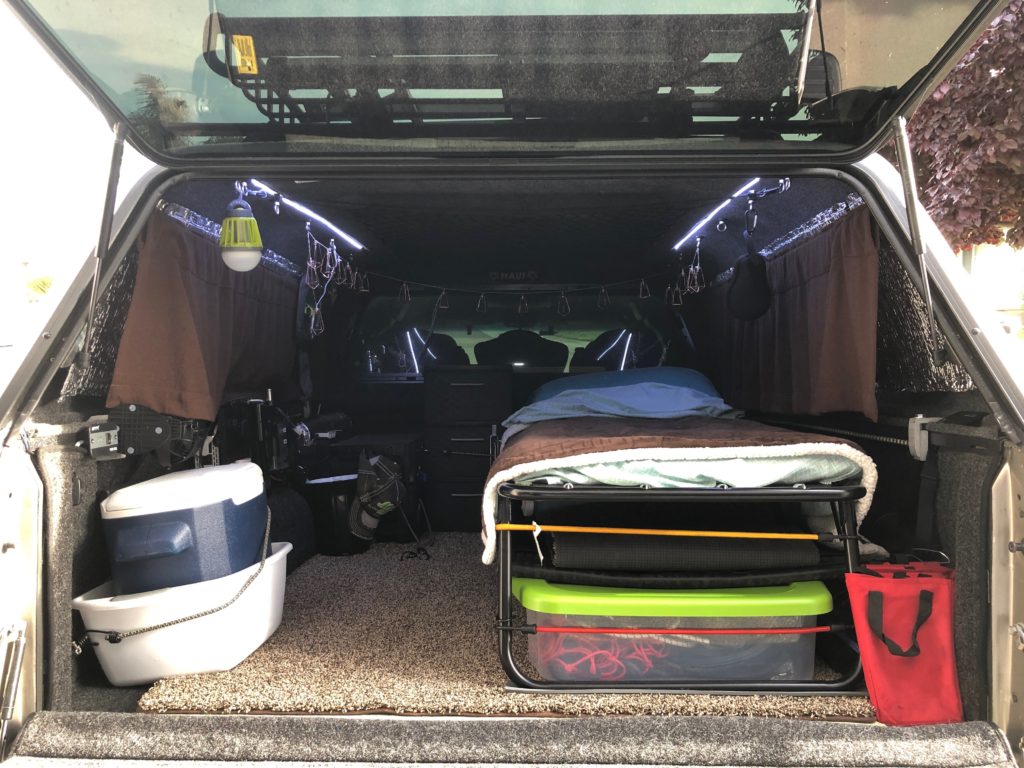 From the picture above I have a smaller ice cooler just for day-to-day use. If I were to get a proper cooler, it would have to be located in that same place for convenience and it would have to be mounted there somehow. I am sort of against permanently mounting something where I would have to drill holes into the bed of the truck. I want a flexible solution.
Any suggestions?