As the main cook in the house it's sometimes challenging to find new and exciting recipes. I have been using Allrecipes.com with a lot of success. More recently I've picked up an InstaPot from Amazon and that too has been a big hit. With Allrecipes, InstaPot, and mom's recipes, I still have a need for something different. Then I found Hello Fresh.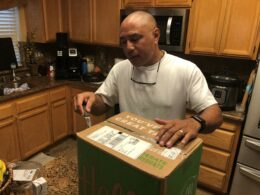 I have not tried other box type of services so I have no point of reference or had any prior recommendations from anyone. I simply search top diet programs for 2019, which lead me to a Mediterranean diet, which then led me to the top box type services. Then after reading the descriptions, reviews, and subscriptions and watching a few YouTube videos, I choose Hello Fresh.
After the quick sign up on a Tuesday, I got my selections the following Monday, which is the day I selected to get my deliveries. I was so pleasantly surprised on the good packing and organization of the meals, my passion for cooking was once again revitalized! Everything in the box looked exactly as I had expected from watching other unboxing videos.
Here is my quick version of the Hello Fresh unboxing. Nothing fancy, but hopefully you get the point.
The subscription I picked was for 2 people for 3 servings. I decided to start small just for trying everything out. For now I have prepared the meals every other day. In-between the Hello Fresh meals, I supplement it with my own cooking or again from dishes in Allrecipes.com or InstaPot.
For us, this gives us a good variety of food everyday, every week. On a side note, the portions of the Hello Fresh are very generous. Even though the ingredients are for 2 people, I am able to feed my family of 5 just fine, i.e. 2 adults and 3 children under 10 years old.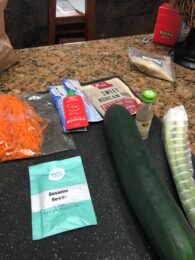 After my first week Hello Fresh gave me coupons for free meals for up to 4 friends. Once you use those up, then you can give your friends a $40 off coupon the signup, then I would get a credit of $20 my next meal.
What is cool so far with Hello Fresh, other than the convenience of not having to shop for the ingredients, is the variety of the recipes themselves. There are a lot of different recipes to choose from and you can change your meal plan from week to week.
There is however, an extra cost for more premium proteins. But overall our meals spread across 5 people is anywhere from $2-5 a meal. So there is a cost savings.
From a time savings, I am probably spending a little more time in the kitchen because I have to follow a recipe I have never done before so I am taking more time to read and re-read all the steps. Plus I am now preparing a more well rounded meal, compared to just chicken and rice like what I used to do.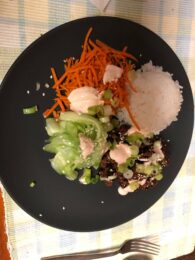 Do I like this box program and do I think it's worth it? Yes I do! The quality is definitely there, the variety, the cost savings for our family, and the fact that creating the meals involve the family is just as important to me as providing the meal itself.
If you'd like a $40 off coupon, let me know. The link of course is sent via email so I would need your name and email address. Hope you enjoy the service and much as we have.