For the last 2 weeks my wife and I have been working from home due to the coronavirus and recommendation from different state and federal agencies. No need to twist our arm to tell us to work from home. We are fortunate enough to work for companies that allow working from home (WFH), not be confused with WTF lol. Our kids have been out of school an extra week longer than us. So here we are all five us staying home, working, distance learning, and trying to be as vigilant as possible as to not get contaminated with coronavirus or any other sickness for that matter.
So far I have been the only to really leave the house. Almost daily I am on a hunt for supplies, yes, including toilet paper, cleaning supplies, food, medicine, etc. A lot of stores have initiated a curbside pick up policy in order to protect their employees and of course to keep the 6′ distance protocol. I've been pretty good at it since I normally stay that distance from strangers anyway.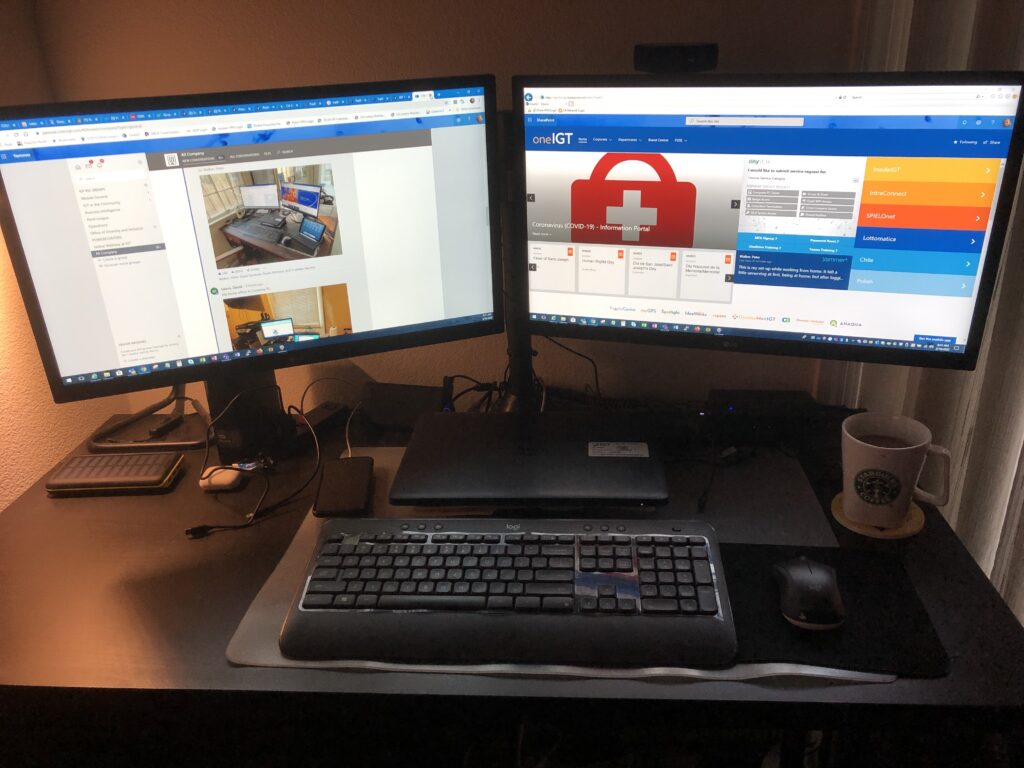 So going back to WFH, in preparation for our home lock down I took inventory of what I think we might need to survive for the next couple of weeks.
Home Office Updates
Updated Internet Plan to include 1GB Mbps internet
Replaced Internet modem that supports 1GB Mbps speed
Checked modem and firewall settings
Replaced color printer
Bought everyone new computer tables and accessories
Bought a second monitor to match wife's existing monitor
Bought universal docking stations to support dual monitors
Relocated everyone's computers closer to the router
Made sure everyone's computers were up-to-date with patches and updates, etc.
Tested everything
It's work in progress, but everyone seems happy with the setup so far.
Food and Supplies
Hello Fresh subscription active for 3 meals a week
Loaded up on basics like chicken, steak, milk, coffee, rice
Toilet paper, disinfection wipes and the like continue to be a challenge even as of this writing
One odd item I was looking for was flour '00' so I can make home made pizza from scratch. I couldn't find it for several days. Had to resort to Amazon, then finally our super market restocked them
To make the pizza I recently purchased an Ooni 3 pizza stove. I've made two pizzas and so far they have been good. I definitely need more practice and pizza dough making time to be better
Picked up Spam, Corned Beef, and Chinese Sausages for save measure, but I keep using these supplies lol
Everything else at this point is just extra. Whatever we have, we appreciate and try to stretch out as much as we can. Our stores, including Costco is only about 2 miles from us and their is always something we can use or eat without starving. So long as we have money, our jobs, and health, we'll be fine.
Speaking of work I do miss the personal contact with co-workers and the customers. It's not quite the same in a virtual mode. I am sure to at least ping my boss or co-workers everyday to see how they are doing.
What I like about WFH:
Not having to shave
Not having to wear work clothes
Waking up an hour later
Not commuting an hour each direction a day
Eating fried rice and/or a proper breakfast everyday
Freedom on taking a break without someone mentally watching me lol
Multitasking with TV and work
Helping kids when they need help
Taking in packages as they arrive instead of worry about it getting stolen lol
What I don't like about WFH:
Totally dependent on ISP stability and up-time
Unexpected noises from environment (dogs barking, doorbell rings, etc.)
No face time with co-workers, not the same virtually
Anxiety on productivity and availability for work
I'm sure I have other pros and cons about WFH. If I think of any more I'll edit the post so at least I have memory of this situation.
What you doing to work from home, assuming you're in a position that supports it?