Since the start of the COVID pandemic we've had to make lifestyle changes to better deal with staying at home orders. I think everyone and their grandmothers had similar survival instincts. How and what to stock up on, what to do to make staying home bearable, and what do we do to accommodate the changes.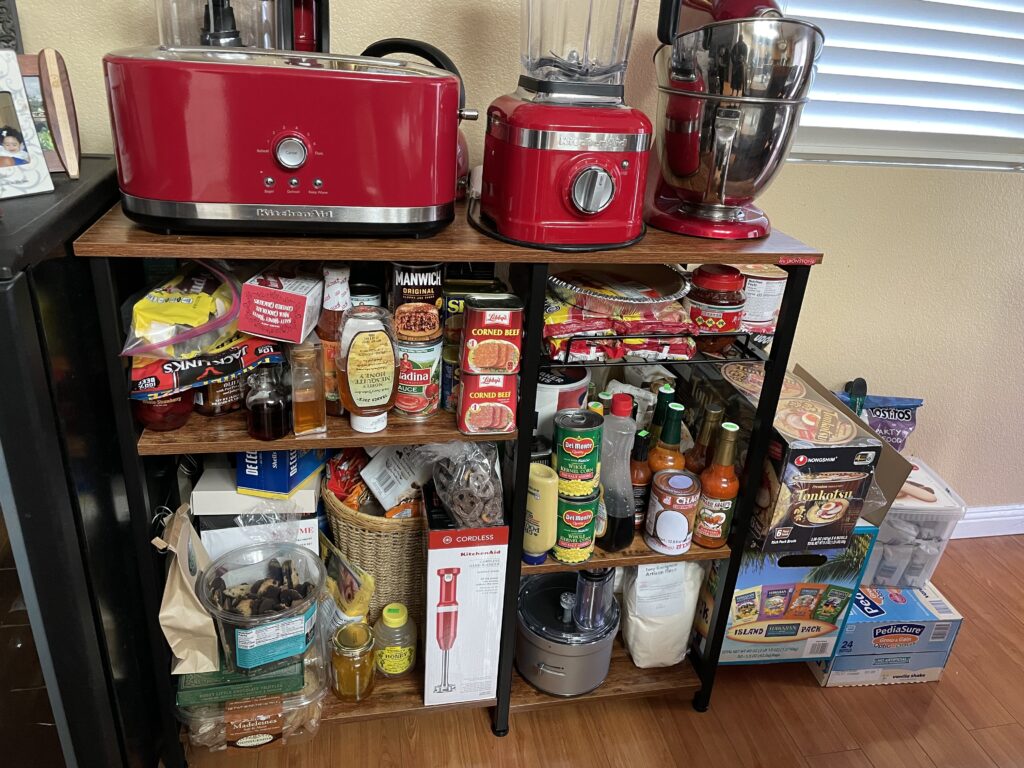 In our little kitchen we had to find a way to stock pile food and gadgets with the assumption that these items would be hard to find in case of a real lock down. Our staple items as you can see from the picture are corned beef, Spam, hot sauces, pasta, soup, and plenty of snacks. We stock pile with the thought that the more we buy, the less we have to go out to the store, and the less risk of getting exposed to COVID.
Even though we are no longer in lock down, some items like Spam are still not consistently on the store shelves. Which leads us to the next item on the shelf, the appliances. Due to COVID, I've had to reinvent myself as a cook. Since restaurants were closed for in-dining, I had to be creative with my recipes, which involved using different cooking appliances. Some things we had prior to COVID and other things I just wanted to replace so that our gear would be matchy-matchy.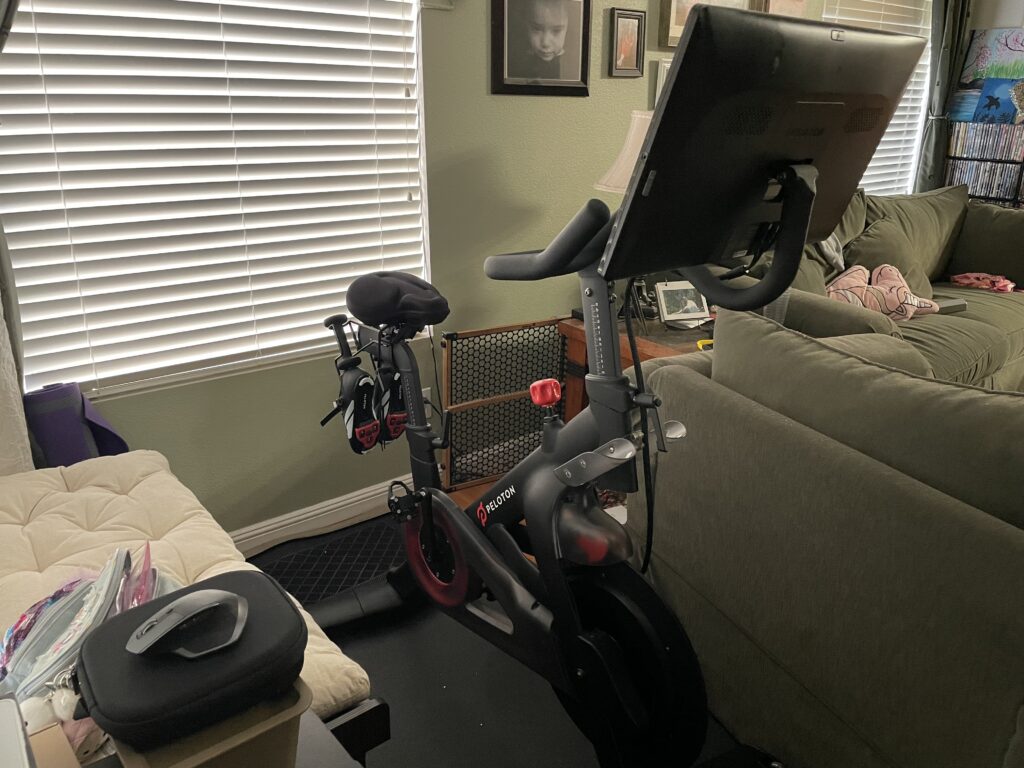 Since gyms and hair salons were closed due to COVID, we made our own adjustments. We have little home gym equipment from the Peloton, to the Mirror, to the JUFIT Fitness Vibration Plate. So basically, we can stay at home and get our exercise in when we can. We supplement our home equipment exercise with walks around the block, weather permitting.
We've been watching a lot of YouTube videos on DIY home repairs, improving internet speed, car repairs, cooking classes, and how to cut boy's hair. So we've done a lot of things just to avoid the general public.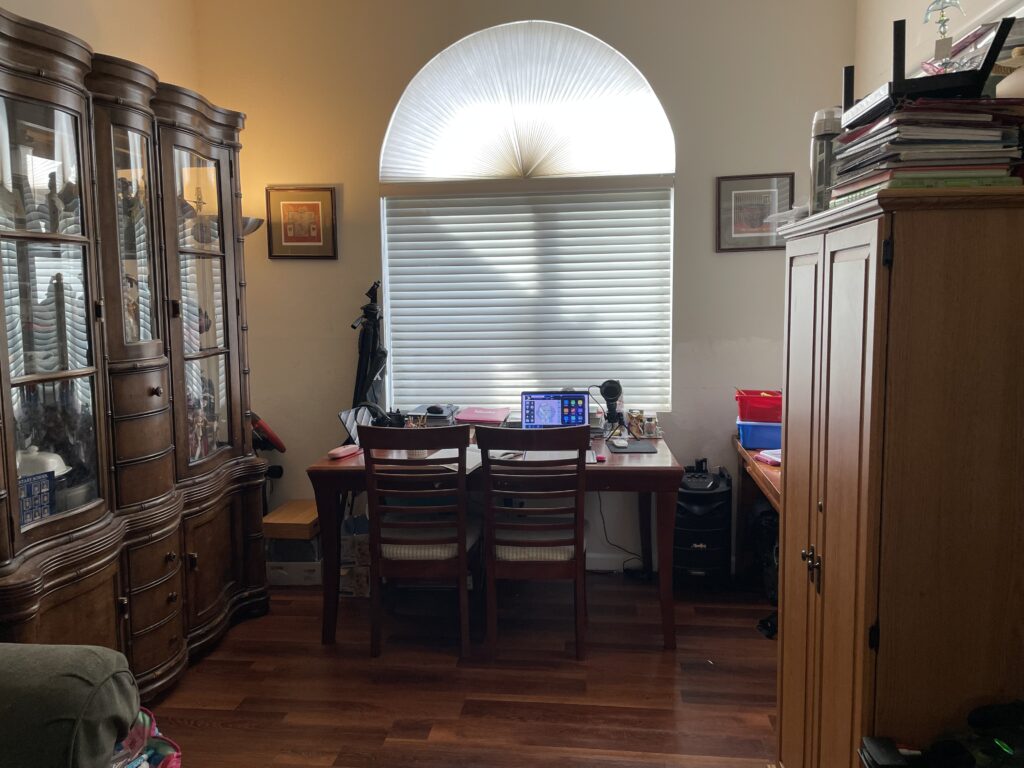 With 5 of us in the family we've had to make changes to everyone's 'office space. We are fortunate enough to have 4 bedroom house. In each of the bedrooms we've had to setup desks for WFH and Distance Learning. We converted the entertainment / dining room into a Distance Learning area for Jasmine. She gets a nice big open space. Ebru and I share office space in our converted master bedroom and Justice and Sophia have desks and their laptops in their bedrooms.
To accommodate WFH and Distance Learning I made it a mission to increase our internet bandwidth and put a mesh WiFi system throughout the house. For safety I also put in a firewall device to protect our online presence and to keep one eye open for activities that the kids do while we're working. Since COVID, everyone's screen time has been through the roof!
We are bursting from the seams in our modest home. I've also had to do early Spring cleaning in the garage to accommodate the growth of our other kitchen appliances, school supplies, and general living necessities, e.g. toilet paper, kitchen towels, washing machine detergents, etc.
In our garage I find that we're not driving our third vehicles as much or at all. The battery has already died due to inactivity. Again, I had to watch a YouTube video on how to replace the battery on my hybrid vehicle, which I've never done before.
COVID has definitely had an impact on our lives and they way we manage the house. I'm sure there will be other changes in the future. Just hope we have the square footage to handle it all.